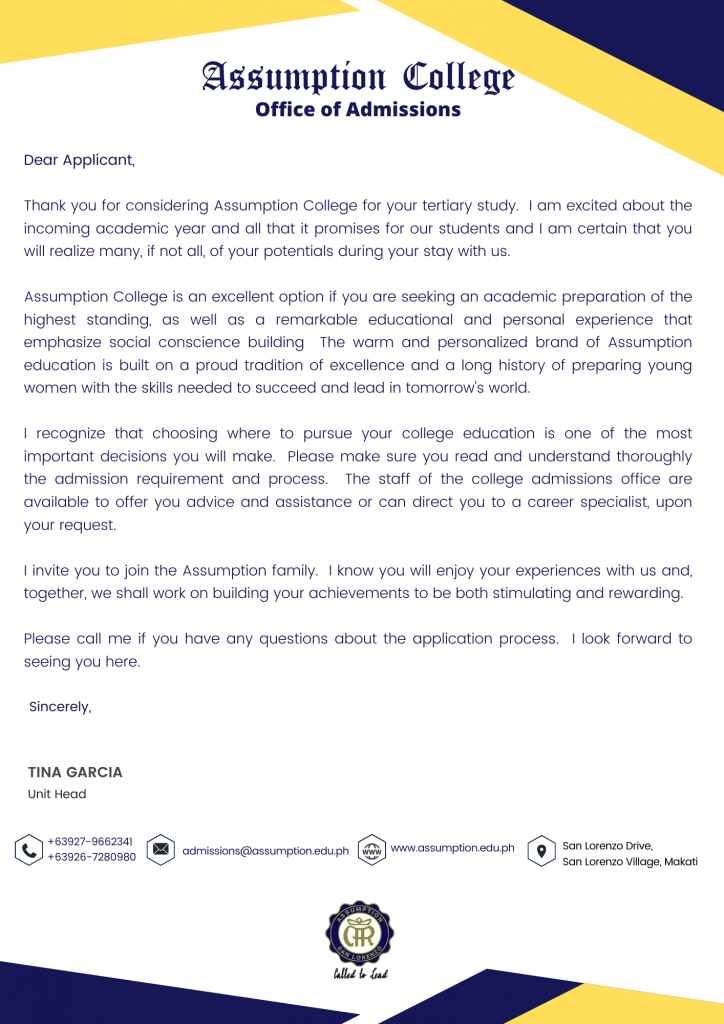 The following documents shall be secured prior to enrollment. These documents shall be endorsed to the Records Office with an accompanying signed receipt at an appointed time.
✔ Application Form
All applicants must complete the online application which may be obtained from this link, https://bit.ly/AC_CollegeOnlineApp, downloadable recommendation forms are available through this link, https://www.assumption.edu.ph/hed-download-forms/. An application consists of: a completed application form, and principal and counselor/class adviser recommendations.  
All information in the application form must be certified true and correct by both the applicant and a parent or guardian. The Admissions Office has the right to verify information stated and any form of misrepresentation or omission of facts aimed to mislead shall be grounds for cancellation of application.
 ✔ Recommendations for Admissions
Two recommendations are required to show the applicant's Performance and add support to her application. Both completed forms must be received by the Admissions Office through email, admissions@assumption.edu.ph . To qualify, applicant must be recommended without reservation by both principal and counselor/adviser.
The principal's recommendation form must show:
a. Grade 11 and 12 numeric grades and the corresponding GPA
b. Disciplinary record if applicable
c. Recommendation
d. Name and Signature
A minimum GPA of 85% taken from the Grade 11 to 12 Report Cards must be obtained to qualify for admission. An applicant who does not meet the minimum GPA for the two-years in Senior High School and is recommended without reservation by both Principal and Counselor must be interviewed by the Admissions Head or the respective Department Chairperson in order to be reconsidered. All applicants reconsidered for admissions with a GPA below 85% shall automatically be put on a one-year academic probation status.
A record of disciplinary behavior from the principal's office is given considerable attention and depending on the nature of offense, can result into a Rejection of the applicant.
The counselor/class adviser's recommendation form must show:
a. Strengths and/or weaknesses in character and behavior of applicant
b. Recommendation
c. Name and signature
The Admissions Office may call the Counselor of the applicant if there is any information which needs clarification.
The applicant may be called for an interview by the Head of Admissions if there is any information from either recommendation form that must be probed into or discussed further.
Gross misconduct or disciplinary behavior may result in a rejection of application even if Senior High School grades are within the minimum requirements.
Applicants with below 80% GPA in Senior High School in English and/or Math are required to take the English and/or Math Bridge classes to provide skills needed to succeed in the college. The Admissions Head will determine if applicants with below 80% GPA in Senior High School in English and/or Math are also required to take additional Remedial classes in English or Math or both.
✔ Other Application Requirements
• Attendance at the College is a privilege which may be forfeited by anyone whose conduct is inconsistent with the policies and regulations of the school.
• Attendance to the Parent Partnership Program is a prerequisite for enrollment to the College. This provides orientation for parents of new students to learn more about the College and how it seeks to partner with them in the education of their daughters.
• When accepted, applicant must submit:
Original Grade 12 Report Card (Form 138)

Original PSA Birth Certificate  (https://psahelpline.ph/)

Photocopy of Senior High School Diploma

Original Honorable dismissal and transfer credentials for transferees

Chest X-ray result, CBC, and blood type (done by applicant's physician or laboratory of choice). A physical exam conducted only by the Assumption College physician is also required prior to enrollment. (Note: Laboratory results are waived for online classes but these requirements may be required when face-to-face classes resume.)

After enrollment, all freshmen and transferee students must prepare to undergo an orientation and guidance testing session.
• Assumption College is a Catholic institution. All students, regardless of creed or religion, must prepare to take the required Theology courses to graduate and receive the Assumption College diploma.