CORE VALUES AND CHARACTER FORMATION
Within the learning ecology of Assumption, we draw from the passion and philosophy of Marie Eugenie to select the VALUES that should motivate the students and the energetic love that should drive the ABILITIES being formed in them within the context of our times. The life-time project is that these Prime Life ABILITIES are shaped by our Core VALUES so that they can be tools through which they can influence their families, communities, businesses, and advocacies. Core Values without Prime Abilities have no skills and Prime Abilities with no positive Core Values will be soulless and often destructive. As Marie Eugenie counsels, "egotism and self-sacrifice, there lies the whole mystery, the principles of good and evil in earthly things."
In the context of the 2018 International Education Gathering (IEG), the learning ecology of Assumption is spiritual, which resonates with what Guy Le Bouëdec describes as a dimension where one gets in touch with an intimate space where one's unique and deepest identity dwells."8 The IEG document continues that spirituality is not about religion. "It is more concerned with growing into a consciousness of and experiencing the divine."
 SPIRITUALITY AT THE ASSUMPTION
Assumption education is infused with LIFE drawn from its spirituality — made tangible in our Core Values. These values are not concepts but energy fields flowing from the One fine-point who is the Source. There is a distinct theology that underpins our spirituality and values, i.e. who is God for us. The spirituality of our co-foundresses Marie Eugenie and Therese Emmanuel was extremely intimate. To them, God loves us personally beyond anything we can imagine and calls each one by "name," that which makes us who we are. For us, as for Marie Eugenie, the "earth is not a place of exile, but a place of glory for God," a place where God is in everything – within which we "live and move and have our being." The insight of Therese Emmanuel gives us a "name," "you are Bethlehem, where I wish to dwell." Thus, through us God is present in the world and in the cosmos within which we live Consequently, our spirituality is fundamentally one of relationship – one of love. It is a love which is realistic that needs to develop to a level of maturity where we can totally give ourselves, albeit through trials and struggles. We are aware that we must "break through the rock" of our own fears and egoism in order to embrace and serve everyone, reaching out most especially to the lost and marginalized. With joy we work toward detachment from anything that hampers us from revealing the God within us to all those around us within the context of our times.
Our spirituality is one that recognizes that each one of us has a contribution to make. We find it in our individual "talent and grace" (SME). Assumption education is committed to developing these gifts. Our spirituality is strengthened within an inclusive circular community. We need to work together toward making the earth a place where kindness and love reign.
Thus, our CORE VALUES are: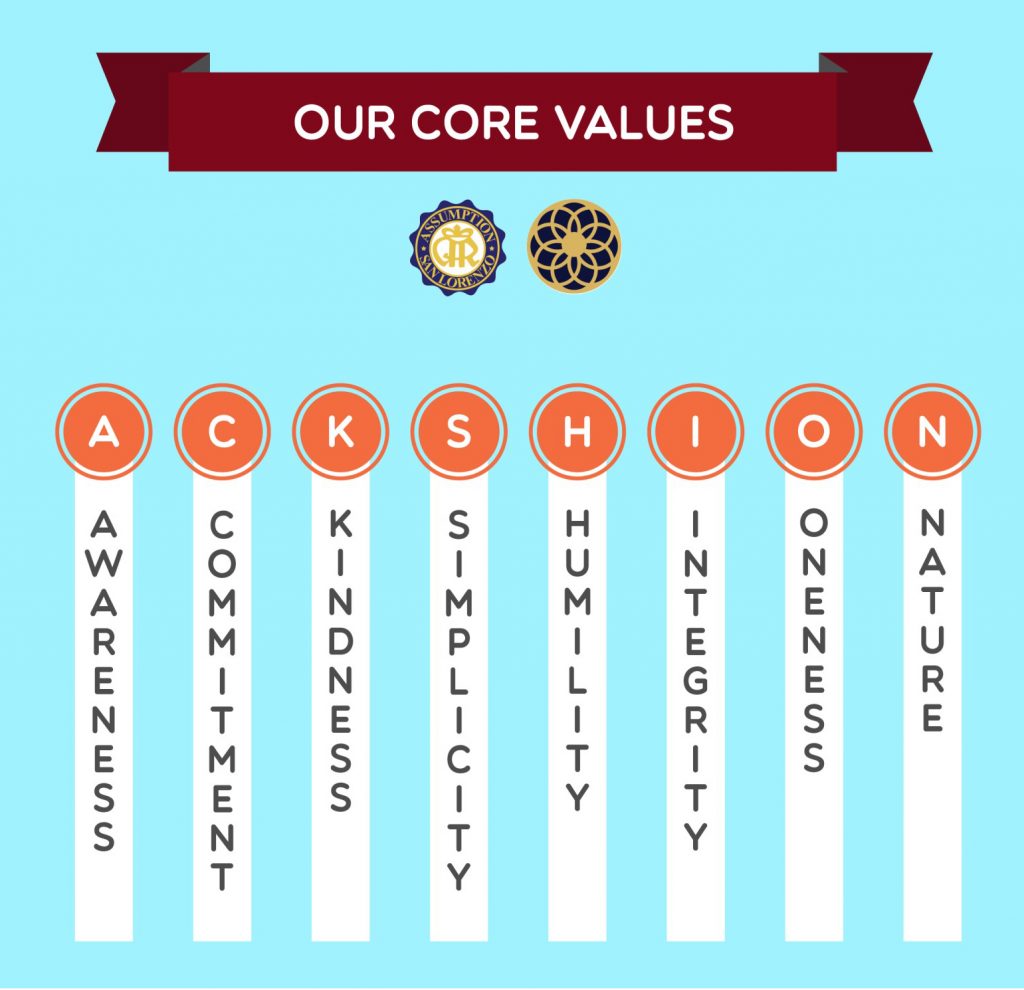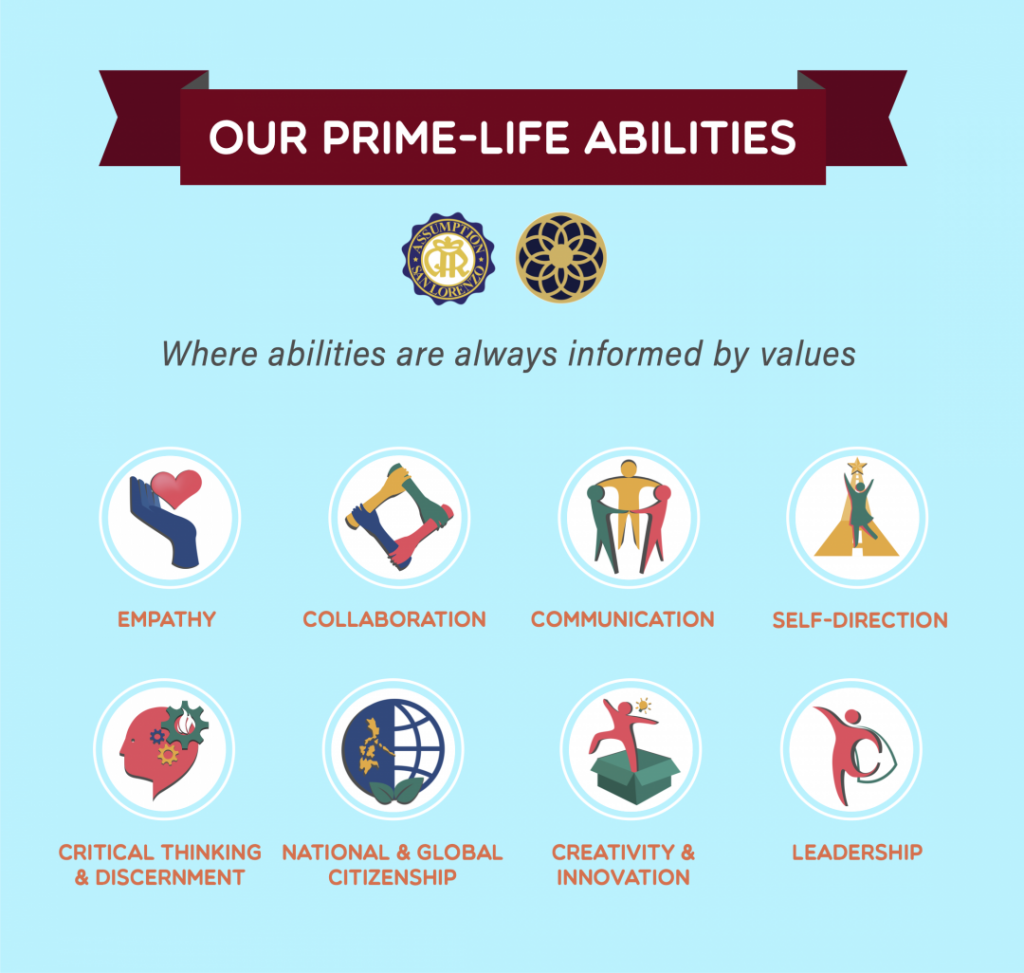 Empathy – Women who are one with and respond to the feelings and realities of others.
Creativity and Innovation – Women who generate, develop and apply original ideas in actual and new contexts to produce viable solutions for identified problems.
Self-Direction – Women who take responsibility for her continued learning and shows self-knowledge as she assesses her own performance accurately and critically.
Collaboration – Women who engage in a concerted effort to learn, solve problems, address issues/realities and achieve goals together.
Communication – Women who receive and convey information and ideas as a means of connecting people and places.
Critical Thinking and Discernment – Women who integrate faith and reason as she reflects, discerns, makes decisions and acts.
National and Global Citizenship – Women who are interested and have an awareness of national and global realities and their interconnectedness as she works with others for the common good.
Leadership – Women who are able to influence a group of people, guided by integrity and ethics, to take transformative action in their own sphere of influence.